Wear a Woolly Hat for homelessness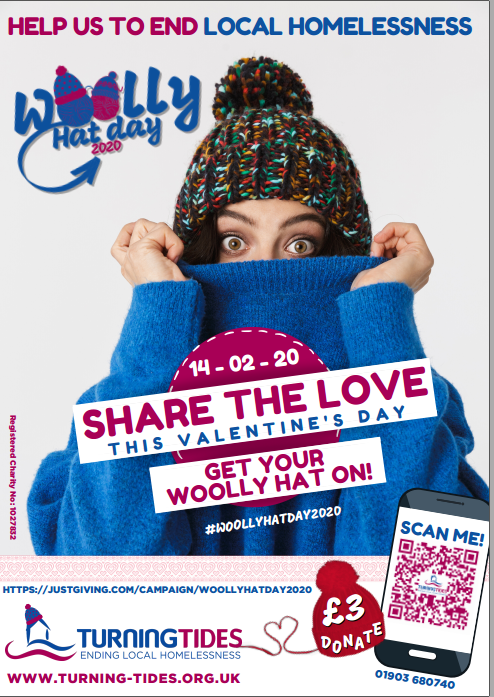 Celebrate Valentine's Day this year by snuggling in a Woolly hat as the Turning Tides charity will be hosting their annual Woolly Hat Day on 14th February! 
Local businesses, schools, groups, and individuals will all wear woolly hats for the day and donate money to support us in our aim to end local homelessness. A suggested donation of £3 is only the price of a coffee!  
The event raised over £1629 last year and the charity hopes this year the amount will double! These funds are vital to Turning Tides, ensuring they can continue providing life-saving support to the five hundred local men and women they support every month. 
Woolly Hat Day also raises awareness of local homelessness. If you are taking part, you could post a photo of yourself or your team on social media using the hashtags #WoollyHat2020 and #endinglocalhomelessness – don't forget to tag them too! 
In previous years many workplaces really got into the spirit by holding cake sales on the same day to raise additional funds. 
The children and teachers of St Margaret's Primary school in Angmering, last year raised a fabulous £522! The school is taking part again this year – could your school or organisation to beat their fabulous total?
This fun day is a great way to increase awareness of homelessness locally and you could be a part of it too! Why not get your colleagues, community group or family/friends to join in the fun? 
If you are interested and wish to join in on the fun and make a difference contact: sophie.moore@turning-tides.org.uk and 01903 680740 – ext 252 
They can support you in your fundraising by providing collection of tins/buckets and posters.